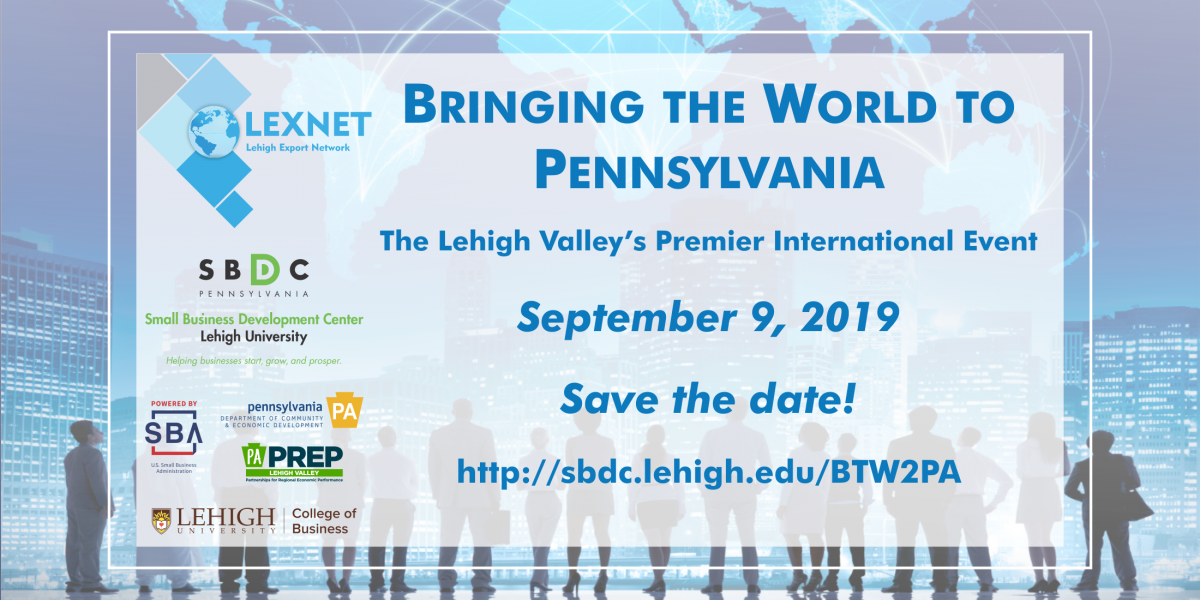 Stay tuned for registration information!
Monday, September 9th / Ben Franklin TechVentures
Join us for a valuable day of export education and your once-a-year opportunity for one-on-one meetings with PA's Authorized Trade Representatives (ATRs)! Fourteen offices will be represented at BTW2PA 2019 this year, covering 46 countries! 
Countries Represented
Australia, Austria, Bahrain, Belarus, Belgium, Bulgaria, Canada, China, Croatia, Czech Republic, Denmark, Estonia, Finland, Germany, Hungary, India, Indonesia, Ireland, Italy, Kuwait, Latvia, Lithuania, Malaysia, Mexico, Netherlands, New Zealand, Norway, Oman, Philippines, Poland, Romania, Russia, Saudi Arabia, Serbia, Singapore, Slovak Republic, Slovenia, South Korea, Sweden, Switzerland, Taiwan, Thailand, Ukraine, United Arab Emirates, United Kingdom, Vietnam
For sponsorship opportunities, please contact Brett Smith at bds206@lehigh.edu.